Update 8: 21st August 2003
---
More talks
– More about John – Books and how to order
Some impressions – Contact details – Email John now – Intro and main menu
---
Mekong intro
– First update – Previous update – Next update – Final update – Come to a talk!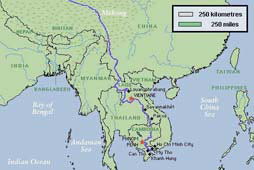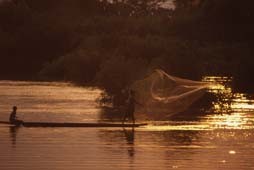 Sunset on the Mekong
The trip turned from a journey into an adventure when I stepped off the bus in Manigango. It was the last bus I was to see. A team of lorry drivers took me bouncing for six hours across the grasslands in their convoy, depositing me in a small town called Shiqu, the last in Sichuan, where people giggled and nudged each other at the sight of the strange foreigner. Water at the guesthouse was hand-pumped from a well. I'd been warned that there'd be very little onward traffic so was up and walking before dawn. It was just as well. One of the few vehicles that day was waiting at the edge of town, and with me in the final seat it shot off into the sunrise like a rocket. The road was just appalling, but once into Qinghai province and across the Yangtze it picked up a bit and I arrived at my next destination, Yushu, in fine fettle.
Yushu was a sprawling market town, a real frontier place, with lorries and donkey-carts charging about in all directions throwing up dust. Just like the Silk Road oases used to be before the Chinese came and rebuilt them. And like those oases it seems to have extremes of weather. A fortnight previously a flash storm had washed away 38 houses – I found the families living in government emergency tents. Then, while I was there, a dust storm blew up and reduced visibility to practically nothing. The locals seemed unfazed by this and huddled inside their yak-wool greatcoats regardless.
From Yushu a minor road meanders through endless undulating yak pastures to the even more peculiar town of Zaduo. I think there must be as many yaks in southwest China as llamas in South America. Zaduo has the distinction of being the last settlement and bridging point on the upper Mekong. Clinging to the left bank at just under 13,500 feet, it isn't so much a settlement as a row of cobblers, horse-tackle stalls and motorcycle workshops, catering to the various transport preferences of the modern yak-herder. It has no piped water or mains electricity – the perfect spot to start a foray into the unknown.
I mulled over my options. The maps in my rucksack (a 1920 sheet from the Survey of India and a 1971 Soviet military map) showed a mule track following the left bank as far as a monastery called Trashi Gompa. There was also a road of sorts through the mountains to a place called Moyun, described by a recent American expedition as "a walled compound occupied by two Tibetan families". The mule track seemed preferable, so I stuffed the rucksack with some nuts and dodgy-looking dried noodles and started walking.
The track took me into some of the most fabulous hiking country I've ever seen. Sometimes keeping close to the river, sometimes climbing to the high grasslands, it headed steadily northwest, from time to time weaving through groups of yak-herders' tents where children ran and hid and dogs went berserk as I approached. Luckily these guard dogs – snarling Tibetan mastiffs every one of them – were chained, so I had none of the scary confrontations of a few years ago in Peru. The herders often called me over to their tents, which were surprisingly well-appointed, usually with a sleeping platform, a sideboard and half a dozen low stools, and always in the middle a yak-dung stove. The families were understandably curious, and as we chatted through the smoke – me in English, them in Tibetan – one of the women would ply me with unleavened bread and sumptuous yak-milk yoghurt. This traditional greeting for travellers was exactly the same as I enjoyed ten years ago in Kyrgyzstan, 2,000 miles to the northwest (though I'm happy to say the bread is better in Tibet).
As I pitched my own tent at the end of the first day, a passing horseman stopped and looked pityingly at me. He pointed up the mountainside, then down to the tent, made a gesture like a fierce creature pouncing and bit pointedly at his arm. 'The wild animals will eat you!' was the obvious message. I don't know exactly what kind of animal he had in mind; I saw marmots, a huge hare, hundreds of gopher-like fieldmice twitching their whiskers at me, a rodent similar to the South American viscacha, four Tibetan gazelle, a giant Lammergeier circling overhead, and a small stripy furry tail that disappeared like lightning into a rock crevice (its owner must have been the size of a large kitten).
I didn't feel in any danger of being eaten.
At the end of the second day the mule track petered out on the bank of a wide, fast-flowing tributary. In the dry season this would have been wadeable, but certainly not in August – not even by mules. I'd reached a height of just over 14,000 feet. I was still two days' walk from Trashi Gompa, but didn't really mind having to turn back. This walk had been the best thing I'd done on the whole trip. The only question was, how to get closer to the Mekong's source?

Other updates
1st February
– 25th February – 24th March – 9th April – 29th April – 6th July – 1st August – 12th September – 1st October
First update – Previous update – Next update – Final update
Come to a talk!
---
Book now
for this slide/sound show.
---
Back to top
– More talks – More about John – Books and how to order – Some impressions
Come to a talk! – Contact details – Email John now – Intro and main menu