Final update: 1st October 2003
---
More talks
– More about John – Books and how to order
Some impressions – Contact details – Email John now – Intro and main menu
---
Mekong intro
– First update – Previous update – Come to a talk!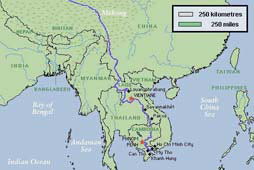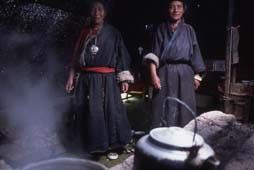 Tibetan family
Yushu to Lhasa must be about the toughest hitchhiking in the world. The huge distance, freezing cold rain, appalling road often washed away by landslips, virtually no traffic, completely unroadworthy vehicles, and Tibetan lorry drivers more interested in drinking yak-butter tea than making any progress towards their destination, don't add up to an easy trip.
Many of these drivers seemed to have the same strange aversion to water as the nomads I'd met the previous week. Jerrycans of spare fuel would always be aboard, but not a drop of water. When their radiators needed topping up, which they often did, they would stop by a river and rummage for a little plastic bottle, or even in one case a jam jar. After innumerable trips to the riverbank we'd continue on our way. But the real problems arose when the radiators boiled over, usually approaching the summit of a pass. Here there would be no rivers or streams, so we would wait interminably while the radiator cooled down. Often we'd be blocking the road and quite a queue would form, knots of drivers and passengers standing around with infinite patience till we were ready to carry on our way. I never found out the reason for this strange attitude of Tibetans towards water.
I soon noticed that Tibet was very different from China. The roadside towns and villages had no electricity, water, phones, toilets or anything – in fact most were just shacks in a sea of mud. Everyone used the street as a toilet, along with the animals. There was only one day when I made no progress at all, but then the journey descended into a farce when after a string of breakdowns I found myself in the back of a jeep being towed by a fully laden timber lorry over a 15,000-foot pass!
Another problem with this trip was that I was doing it illegally. Most of Tibet is closed to foreigners, though you can visit the more popular places with what is amusingly called an Aliens' Travel Permit. But the Yushu to Lhasa route is firmly out of bounds. Luckily I'd been warned where the main police checkpoint was, and was able to walk through it in heavy rain while the guards played dominoes inside. It was a brilliant route and I hope it will be opened officially soon. Three of the canyons were just heart-stopping – they made the famous Tiger Leaping Gorge look like a dribble.
Finally I arrived in Nagqu, a large town from where the road was paved. The only trouble was that all the guesthouses seemed to be occupied by construction workers on the railway. Yes, they're building a high-speed line to Lhasa, completion 2007. I can't have looked very presentable, caked in dust and mud, with bruises all over from the bouncing lorries and jeeps. It felt like weeks since I'd got my hands on water by more than the cupful. After a long search I found a Uyghur family with a free room in their backstreet guesthouse, but surprise surprise, the water was off. I was going to have to wait till Lhasa for a shower.
A week later I fulfilled a dream by visiting Everest North Base Camp. It sits at the head of the amazing Rongbuk Valley, home to the highest monastery in the world. The main buildings were more or less destroyed during the Cultural Revolution and it's rather a sad place now, with just twenty or so hardy monks in residence. But the views of Everest's north face are stunning, and it was nice to be there just twenty years after I'd been poking around on the Nepalese side, while writing Into Thin Air.
The group I joined was a disaster! It consisted of:
• Rie, a charming young Japanese woman who spoke fluent English and some Chinese;
• Mike, her American boyfriend, who spoke only a sort of 1970s hippie English peppered with expletives;
• Stephano, a boisterous four-foot-tall Italian, who'd spent what sounded like a challenging couple of years delivering virgin Italian olive oil to London restaurants, and spoke fluent English and Spanish;
• Laurent, a handsome young Frenchman who spoke only French and kept disappearing;
• Kesan, our grumpy Tibetan driver who also spoke some Chinese.
Mike was in charge, and he reminded us daily that this was his trip and we were just paying passengers. The atmosphere was awful, and at Everest Base Camp Laurent left us for good. We waited for two hours; I tried to persuade Mike to stay longer, but he replied "Stuff Laurent; we're going." So we went. I just had time to report his disappearance to a sunglasses-clad man from the Tibetan Mountaineering Association. I said, "We've lost someone. I'm handing over responsibility to you." He said, "You can't." I said, "I have."
In the end all was well. A couple of days later Laurent turned up in Lhasa, full of remorse. The others had gone on to Kathmandu, but we had a reunion with Stephano.
Oh, I forgot to mention the Land Cruisers! Our group went to Everest in an old one, rusty but adequate, but Stephano and I returned to Lhasa in one of the latest models, the sort that Nelly and I laugh at in Salisbury and Winchester. You should have seen how it flew over the ruts! Even in the boggiest places, where lorries and jeeps were floundering about hopelessly, we just sailed through. I'll never laugh at Land Cruisers again.
Back in Lhasa I thoroughly enjoyed myself. On my 54th birthday I strolled to the Potala in the pre-dawn dark, took some photos of the sunrise, then immersed myself in its 4,000 musty rooms, in which yak-butter candles burn day and night, casting flickering glows over tens of thousands of statues and scriptures, while Tibetan caretakers sit in dark corners muttering mantras. Terrific!
And that was the last I saw of Tibet. Next morning I flew to Zhongdian, covering in two hours the distance that had occupied me for the whole of August and half of September. In the Yunnanese hills summer had turned visibly to autumn; the maize and sunflowers had already been harvested, and now the farmers were bringing in barley, making hay and ploughing for next year's crops – all backbreaking work, made only slightly easier, in the case of the ploughing, by pairs of elderly oxen pulling wooden ploughs.
The trip was drawing quickly to a close. Lijiang and Dali swept past in a blur, followed by the famous tea plantations of southwest Yunnan. Before September was out, my friend Michael Liau was greeting me over a pot of this same tea in the subtropical Mekong port of Jinghong. Michael is the Jinghong manager of the Xishuangbanna Jinshui Company, which imports bulk goods from Thailand and exports fruit and vegetables in return. I'd arrived in China on a Jinshui boat and I was to leave on one. He took me out for a farewell supper, one of those spicy Yunnanese banquets that Jinghong people love so much, and next day came downriver with me to Guanlei, the last port in China. He was one of the kindest people I'd met on the whole trip; and incidentally if any of you want to try this amazing back-door way into China, he says he'll be happy to help. Boats leave in both directions almost daily. You can email him at js@xsbnjs.com or ring him on +86 (0)691 663 1492. His English is perfect.
The boat was carrying 200 tonnes of fresh garlic. It smelt delicious! Running with the flow of the river, we flew past the rubber plantations of Yunnan's extreme south and into the great gorge that separates Laos from Burma. Here we spent an hour stuck on a sandbank, which rather surprised me as I thought the captains all knew the river backwards. Finally we docked in the Thai port of Chiang Saen which I'd left almost three months earlier. The waterfront was resplendent in post-monsoon colours: a hundred shades of green, and the last of the summer's orchids and fuchsias. Although late in the day it was stiflingly hot, and the humid air wrapped itself around me like a warm wet blanket. "You should come in January," said the man at the guesthouse. "It's nicer then."
He was right. I remembered it from when I'd arrived in Thailand to start the trip almost exactly nine months previously. It was time to go home.
Thanks to Tim Jasper at Rohan Designs for equipping me yet again,
and to Steve Fowler and Zoë Brookes at the Brasher Boot Company – now Berghaus – for the brilliant footwear.
Other updates
1st February
– 25th February – 24th March – 9th April – 29th April – 6th July – 1st August – 21st August – 12th September
First update – Previous update
Come to a talk!
---
Book now
for this slide/sound show.
---
Back to top
– More talks – More about John – Books and how to order – Some impressions
Come to a talk! – Contact details – Email John now – Intro and main menu