Update 3: 24th March 2003
---
More talks
– More about John – Books and how to order
Some impressions – Contact details – Email John now – Intro and main menu
---
Mekong intro
– First update – Previous update – Next update – Final update – Come to a talk!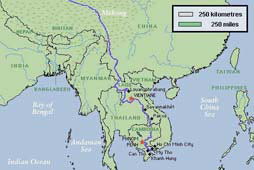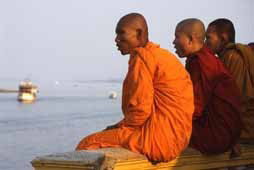 Monks in Phnom Penh
After a month in Laos, I crossed the Mekong into northern Thailand this week, and in the town of Mae Sai managed to get a day pass to Myanmar (Burma). This was a great and welcome surprise as I'd resigned myself to giving this mysterious country a miss. Although it boasts a 150-mile frontage on the Mekong, it has the reputation of being one of the world's more difficult countries to get into. Certainly not many tourists were in evidence at the Mae Sai crossing point, and the immigration officers seemed much amused as they handed me my permit, on which was printed in large letters: 'Please to report back by 5pm.'
At this border you step from South-East Asia into the Indian subcontinent. Indian faces greet you from beneath finely decorated Muslim caps or headscarves. Noodles give way to samozas, and spicy aromas waft through the bazaars. This part of Burma is infamous for opium production, so no doubt there's more on offer at some of the bazaar stalls than meets the eye. Frustratingly my permit restricted me to a three-mile radius of the border crossing. The road to Mandalay stretched temptingly ahead, but this would have to wait till another time.
My last update came from several hundred miles south of here, at the southern tip of Laos. So what of the intervening journey? Well, Laos is every traveller's dream: a country of incomparable beauty, whose people remain so unaffected by tourism that you have to pinch yourself to believe it. I travelled up the Mekong in cargo boats, passenger ferries and on one occasion a motorised canoe. I saw the river shrink from 500 to less than 100 yards in width. I passed through the village of Pha Pho where elephants still haul timber from the forests, and made friends with two huge specimens which I found in the middle of nowhere. In another sleepy riverside town I hired a bicycle and pedalled out to a monastery where saffron-robed monks pressed tea on me while they practised their (already excellent) English. And I spent a couple of nights in bamboo huts, raised on stilts to keep the creatures of the night at bay.
Nearly a month after entering Laos I came to Luang Prabang, the country's former capital and a city so perfectly preserved that it has been made a World Heritage Site. Built on a peninsula where the Nam Khan joins the Mekong, it has some of the finest monastery buildings in Laos and perhaps the best examples of French colonial architecture anywhere. Its people have also discovered the key to a satisfying life. Each evening the main street is closed to traffic and the entire population goes promenading, gossiping about the events of the day, and occasionally pausing to buy mouth-watering snacks from dozens of roadside foodstalls. This continues till about 9pm when, satiated and content, the city goes into a deep slumber till dawn.
Continuing upstream, I was rather alarmed to see the helmsman of my boat suddenly let go of the wheel, throw rice offerings to the river gods, then gaze heavenwards and put his hands together in prayer. We were approaching rapids; and as the boat pitched to and fro I found myself praying quite earnestly too. Rocks jutted from the water to left and right, and undoubtedly more lay just below the surface. The relief was visible in both passengers and crew when we emerged back into calm water unscathed.
I spent the night in Pak Beng, a not-even-one-horse-town on the muddy riverbank, where next morning I became so engrossed in talking to one of its few residents that I almost missed my onward boat. It had already cast off when the crew heard my cries, which were probably lent a touch of added anguish by the thought of having to spend a second night in Pak Beng. I scrambled breathlessly aboard, and as we got under way it occurred to me that the river gods had more than earned their rice.

Other updates
1st February
– 25th February – 9th April – 29th April – 6th July – 1st August – 21st August – 12th September – 1st October
First update – Previous update – Next update – Final update
Come to a talk!
---
Book now
for this slide/sound show.
---
Back to top
– More talks – More about John – Books and how to order – Some impressions
Come to a talk! – Contact details – Email John now – Intro and main menu