Update 7: 1st August 2003
---
More talks
– More about John – Books and how to order
Some impressions – Contact details – Email John now – Intro and main menu
---
Mekong intro
– First update – Previous update – Next update – Final update – Come to a talk!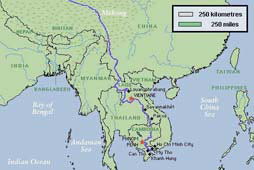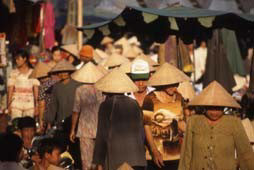 Busy street
Question: Where in the world can you find the following shops all in a row? 'Prosperous Non-staple food Shop', 'The Fragrance Eating house', 'The Convenient Grain and Oilgrocery', 'Popular Eating House' and 'The Beauty Barbershop'?
Answer: On the main street of Xiangcheng, the friendliest and whackiest town in Sichuan. Admittedly I arrived at dusk, and just as some serious evening promenading was beginning a power cut threw the streets into darkness. Candles were hurriedly found, and within ten minutes the shops and restaurants were back in business, looking twice as inviting as before. It propelled the whole population into fits of giggling. They should have power cuts more often.
But this part of the story began less happily, when I left the Mekong to spend a couple of days walking down the Yangtze. In northwest Yunnan three of Asia's greatest rivers, the Yangtze, Mekong and Salween, tumble through parallel gorges barely thirty miles apart. At one point the Yangtze valley narrows almost to a slit. Tiger Leaping Gorge, as this slit is called, has become a 'must-see' destination for travellers in Yunnan. For ten miles or so a rough path can be followed, climbing 2,000 feet above the churning waters before descending to a broad grassy plain.
Well the gorge was certainly spectacular, but I was horrified to see what the Chinese authorities have done to it. Roads, hotels, car parks, quarries, karaoke bars – the western side was disfigured by almost every kind of inappropriate development you could think of, and now they've started on the eastern side as well. Most of the ugliness was well below me, but there were few places along the path where I could avoid seeing some of it in the bottom of the gorge. When the Chinese set out to destroy something they certainly do a good job.
Having said that, the walk took me through gorgeous fir coppices and green Alpine meadows grazed by goats, with plenty of airy sections cut into the cliff face. And it was good to see and smell rhododendrons flowering in their natural habitat. There were several villages of the Naxi people and some of the families had set up guesthouses. I stayed in one and it was utterly delightful. The path only seems to appeal to foreigners, and thanks to the enduring legacy of SARS I met hardly any of these. So despite the disappointments it was a gentle interlude.
I returned in surprisingly good spirits to Old Lijiang, a Disneyesque town of lavishly decorated wooden buildings, largely reconstructed after an earthquake in 1996 and recently given the laughable accolade of UNESCO world heritage site. Its streets were jammed with Chinese tour groups, each sporting a matching set of baseball caps, following crocodile-fashion behind a leader holding aloft the tour pennant on a bamboo pole.
But good news was waiting for me in Lijiang. My friends Bryan and Sarah, who were in Yunnan a few years ago, had emailed details of a stunning and little-used route which would take me back to the Mekong near Weixi and then upriver to the Tibetan frontier town of Deqen. I set off next morning.
Yunnan's minority people are renowned for being the friendliest and most spirited in China, and the Lisu of this northwestern corner must be the most hospitable of all. After Weixi I broke my journey in the tiny Lisu village of Yezhi. The only guesthouse was a rickety wooden structure, its toilets shared with the rest of the village up a side-street; but the supper they served me was something to die for. The riverside fields were planted with everything from rice and maize to courgettes, cabbages, spring onions, Chinese leaf and even sunflowers – and everything went into that supper. As darkness fell villagers began arriving in the mud patch which passed for a square; a cassette player was set up, and soon a formal dance had begun in which twenty or so people progressed very slowly and rhythmically in a large circle. Gradually more joined in, the pace got faster, and by the time I was dragged into the affair arms and legs were flailing about in abandon. A sort of Yunnanese hokey-cokey. Young and old joined hands and let their hair down without the slightest embarrassment. The circle peaked at forty, then the elders started to withdraw, the men to drink their home-brew and the women to knit and chat. I'm proud to say I kept going till the cassette player's batteries ran out.
Another day's journey took me high above the river to Deqen. The town sits in a deep valley, and its steep streets were lined with Tibetan shops selling everything from yak fleeces to pony tackle to horseshoes (96p per set of four). The riverside market was just amazing – wizzened old women hunched over stalls loaded down with bright yellow footballs of yak butter and tiny white cartwheels of goat's milk cheese.
I stayed in a Tibetan hotel, and for the first time found myself sharing. In these cheap places you pay by the bed, not the room, but with SARS I'd previously had the rooms to myself. So I was taken aback when two monks burst in at 1am, collapsed on the adjacent beds, and left at dawn without a word. I was even more shocked the following night when it happened again, except that this time my roommates were a couple of ruffians straight down from the Tibetan plateau. They snored the night away, and this time it wasn't them but me who crept out at dawn for the early bus.
Deqen marked the start of an 800-mile detour from the Mekong, which would take me over several 15,000-foot passes and across the high grassy plains of western Sichuan. It was a three-day journey to my first staging-post, Litang, which at 15,355 feet claims to be the highest town on earth. Unbelievably there were daily buses, and I pressed my nose against the windows as they swept me up pine-forested hillsides and onto sunlit upland yak pastures.
I arrived in Litang yesterday to find the town in uproar. By one of those coincidences that sometimes happen I'd fetched up on the eve of one of the most extraordinary celebrations in greater Tibet, the annual Litang Horse-Racing Festival. Hundreds of white tents were pitched on the grasslands outside the town, their tentflaps flying in the breeze. The weather was glorious, and by nine o'clock this morning a parade of Chinese VIPs had arrived, to be greeted surprisingly warmly by Tibetan men and women, all dressed in their finest. Then the racing began. It wasn't exactly racing – rather successive displays of horsemanship by the men from the villages. Again and again they galloped past the VIP grandstand, bending low to shoot arrows at targets or pick silk scarves from the ground. Some even leaped out of their saddles and allowed themselves to be dragged along by the horses, apparently just for fun. The proceedings were greeted with rapturous applause from several thousand local spectators. This will be Sichuan's No. 1 tourist attraction in ten years' time, I absolutely guarantee.

Other updates
1st February
– 25th February – 24th March – 9th April – 29th April – 6th July – 21st August – 12th September – 1st October
First update – Previous update – Next update – Final update
Come to a talk!
---
Book now
for this slide/sound show.
---
Back to top
– More talks – More about John – Books and how to order – Some impressions
Come to a talk! – Contact details – Email John now – Intro and main menu