Heart of the Sahara
---
More talks
– More about John – Books and how to order – Some impressions
Come to a talk! – Contact details – Email John now – Intro and main menu
---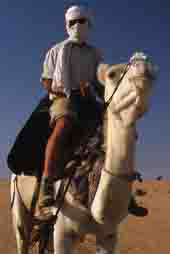 Ready to go
Every week throughout the winter, caravans of up to fifty camels arrive bellowing and snorting in Timbuktu. They are at the end of a three-week, 450-mile trek and each carries four huge slabs of Taoudenni salt, the 'white gold' of the Sahara. Taoudenni is Mali's remotest and most primitive settlement – a posting from Hell. With three camels and a Moorish guide, John set off from Timbuktu to find stunning desert landscapes and a life lived much as it was a millennium ago, when salt was, literally, worth its weight in gold.

"Gather your breath . . . then tell us all about it!"
(Aldro School, Surrey)
Follow John's journey as it happened through his regular updates:

9th December 2005
– 23rd December 2005 – 12th January 2006 – 20th January 2006
–
18th February 2006
–
9th March 2006
First update
– Last update
Taoudenni trip – practical information
Come to a talk!
Read or listen to John's From Our Own Correspondent piece for BBC Radio 4.
---
Book now
for this slide/sound show.
View details of talk

(Right-click to download)
---
Back to top
– More talks – More about John – Books and how to order – Some impressions
Come to a talk! – Contact details – Email John now – Intro and main menu