Update 1: 10th May 2009
---
More talks
– More about John – Books and how to order
Some impressions – Contact details – Email John now – Intro and main menu
---
Middle East intro
– Next update – Come to a talk!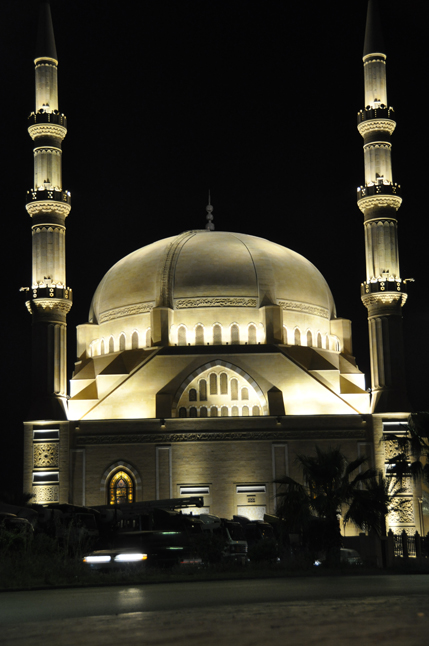 It wasn't an auspicious start. Rain hammered on the roof of the arrivals hall at Beirut International Airport as I waited for a lift into the city. Outside there were puddles a foot deep. I'd come to Lebanon in mid-April, earlier than planned, to hike some of the spectacular Lebanon Mountain Trail, a 270-mile path along the country's high-altitude backbone. Up there, this unseasonable rain would be falling as snow.
The rain continued next day as I climbed towards the LMT's office in Beirut's eastern suburbs to pick up some route maps. "Don't worry," said the administrator Walaa Mallak, "It'll be fine from tomorrow. It never, ever rains after Easter." We both drew a veil over the fact that Easter had already come and gone.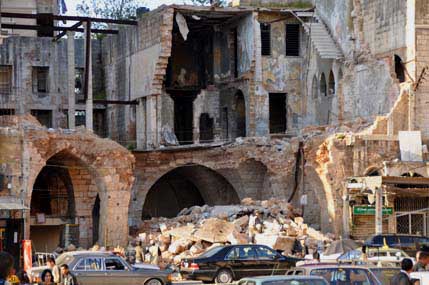 Lebanon is one of the least known and perhaps most misunderstood countries in the Middle East. Half the size of Wales, it has an astonishing four million people including nearly half a million Palestinian refugees. Ninety percent of the population live along the coast, almost half of them in Beirut itself, which has meant some frantic rebuilding of the many blocks of flats that were destroyed in the civil war and more recent conflicts.
Wandering the downtown streets, I passed ruins and rubble on a scale I haven't seen in my life before. In the old French quarter there were also lots of abandoned buildings still more or less intact, the shutters of their 1920s façades creaking on their hinges in the breeze. Judging by the jungles of weeds, some of them had been empty for 20 or 30 years. Beirut must be the only city in the world where under 'Dangers and Annoyances' the Lonely Planet guidebook just says 'masonry falling from buildings'.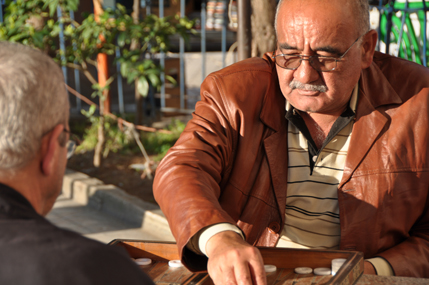 But I was surprised to find amongst the devastation a modern and very European country. French and English are understood everywhere, and French rather than Arabic is often spoken at home. Many of the traffic jams were made up of smart 4x4s – and indeed often caused by them, as their sunglass-toting drivers double-, treble- and quadruple-parked to get as close as humanly possible to wherever they wanted to go.
As Walaa Mallak had promised, the rain eased and I headed north to Tripoli, which the Arabs call Trablous. An old silk-weaving city, it would have been well-known to Marco Polo, who arrived further down the coast at Acre in 1271. In those times Tripoli was a Crusader stronghold, but its busy port was never popular with Silk Road traders because of the 8,000-foot mountain barrier behind it which, as I could see from the bus window, was now covered with a worrying blanket of snow.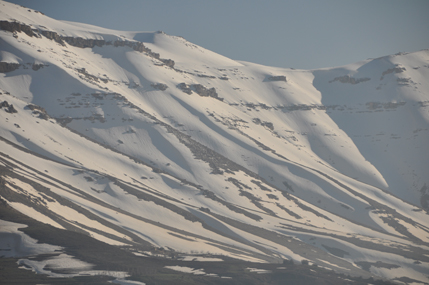 Two days later I was looking at the snow from closer quarters in the mountain village of Bcharré, famously the home of Khalil Gibran until his death in 1931. I was shocked by how cold it was – I hadn't prepared for this! Putting on two of everything, I climbed to the snowline and started ploughing through the mushy drifts. It was hard going in the fierce sunlight, but after a while a grove of cedars gave some welcome shade and I sat down to think things over. In the distance was a ski resort, the skiers looking like little black ants among the paraphernalia of the pistes and ski tows.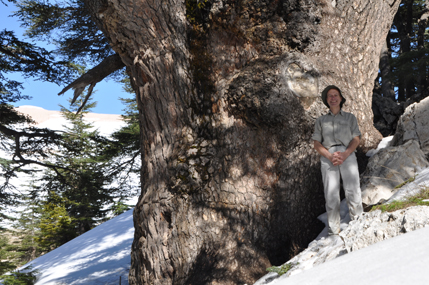 The Cedar of Lebanon whose trunk I was leaning against was almost certainly more than 1,000 years old. Its bark reminded me of elephant hide. Originally these slopes would have been covered with cedar forests, but the quality of the timber was so coveted in Roman times that great logs and planks began to be carted off to the port of Byblos and from there to Constantinople and Rome. Lebanon's remaining cedars are now protected, but it will be a good few centuries before the trees planted today are a match for these grand old characters.
I decided to follow the trees' example and take things slowly. Instead of sticking doggedly to my route now buried in snow, I took a shortcut round the rim of the valley and descended into the Horsh Ehden nature reserve, where there were more cedars but, at only 5,000 feet above sea level, no snow. Grey clouds scudded overhead, but nothing fell from them and I set up camp in good spirits on a grassy promontory. This was what I'd come here for – and what a privilege to be alone on a ridgetop with the twinkling lights of Tripoli far below! It was to be the first of several great camping spots and I slept soundly on the springy turf.
A day's walk to the south was the Qadisha Gorge, home to several ancient but still functioning Christian monasteries. I headed for the gorge through countryside dotted with empty concrete houses, some apparently abandoned whilst still being built, and passed through villages that were eerily deserted. I was told later that many of the houses were summer homes belonging to people in the coastal strip, but to me they looked derelict. The few occupied ones were easy to make out – they were made not of concrete but of wattle and daub, and their peasant inhabitants were busy ploughing, sowing, watering and weeding the plots around them exactly as their parents and grandparents would have done.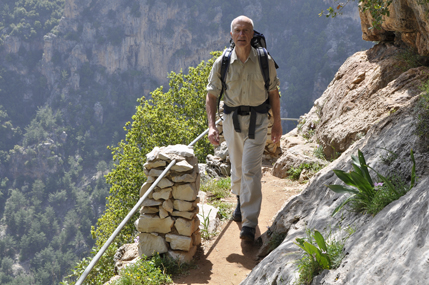 I followed a water channel through blossoming apple orchards to the lip of the gaping limestone chasm that is the Qadisha Gorge – a World Heritage Site on a staggering scale. Although I'd seen it from a distance it took me by surprise. One moment I was tripping through farmland; the next I was staring into space. The faint sound of the river floated up from the dense woodland at the base of the gorge, and I could just make out the first of the monasteries, St Eliseus, built into the side of the cliff 500 feet below.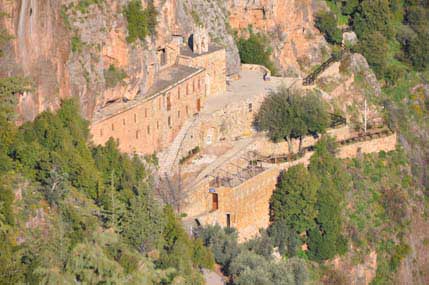 A goat-herders' path zigzagged down between rock pinnacles. After an hour of tentative boulder-hopping, the slope eased into a grassy wildflower meadow until finally I reached the gorgeous woods along the river. I could well see the appeal of this place to monks and hermits. There are only half-a-dozen ways of getting down to the valley bottom – all of them treacherous – and within the overhanging cliffs are dozens of caves and niches which make perfect places for retreat and meditation. The gorge was an early home to the Maronites, a Catholic sect who, with the Greek and Armenian Orthodox Churches, now count among their followers 40 percent of the entire Lebanese population. The twice-daily Maronite services are taken very seriously. When the church bells toll, people flock in numbers that would make a British vicar weep with envy.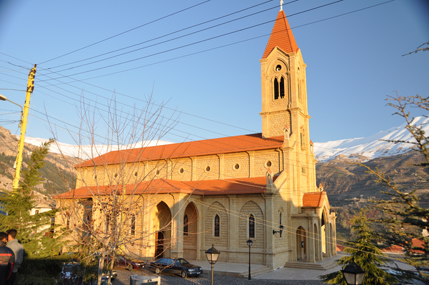 After two weeks among the northern peaks it was time to go south to Lebanon's other famous mountain range, the Chouf. More rolling and less densely populated than the north, the Chouf's ridges and valleys are home to wolves and eagles, more Cedars of Lebanon, and, unfortunately, most of the country's remaining landmines. Luckily the Lebanon Mountain Trail has been routed through areas repeatedly certified as cleared, so I was rather shocked on leaving the first village of Jezzine to see a minefield warning sign. It was reassuringly old and rusty, and I also took comfort from noticing that several goat-herders were leading their animals across the mountainside beyond. In fact the only real dangers in this region today are near the border with Israel to the south. If I'd gone in that direction the Lebanese army or Hezbollah would have firmly stopped me well short of any possible calamity. Still, it was an unnerving moment, not helped by meeting Shafik Mershad in the village of Niha Es-Shouf, who lost both his hands 20 years ago when he stepped on a mine near Jezzine. A week later I was to find another warning sign, virtually alongside a so-called municipal campsite.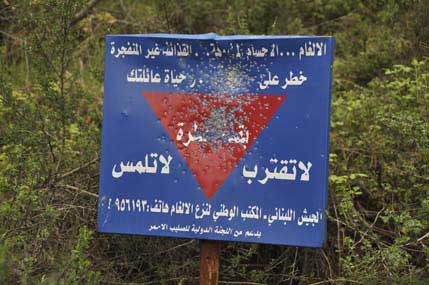 One place where I did feel safe was the magnificent Chouf Cedar Reserve, home to a quarter of Lebanon's remaining cedars. Vast and in some parts forbidding, it's an area where you feel if you were to get lost you might never be found. Here the altitude was slightly lower, and for the first time I could roam the hillsides without clambering over snowdrifts. Spring flowers were bursting out everywhere and the mountain air was warm at last. It looked as if winter was finally over.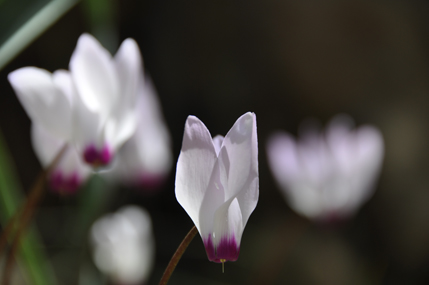 In the second week of May I came down at last from the mountains and set off for Syria. I was looking forward to seeing a new country, but first I had to make one more diversion. The small town of Baalbek in Lebanon's Bekaa Valley is home to the remains of Heliopolis, 'the City of the Sun' – probably the greatest Roman ruins in the entire Middle East.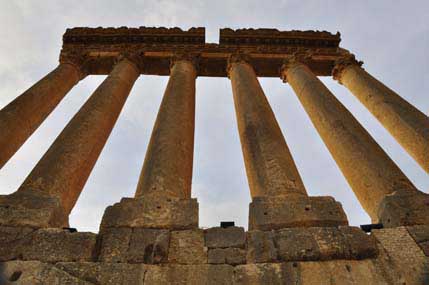 While still half a mile away I got my first sight of the six famous giant columns, looking for all the world like a Hollywood film set. They were just huge. Seventy feet tall and with the largest stones weighing more than 1,000 tonnes, they were once part of a set of no fewer than 54 columns surrounding the Temple of Jupiter, almost certainly the biggest building in the Roman world. And there was more. To the south the great Temple of Bacchus stood almost intact; to the east was the five-acre Great Court, once flanked by pools and with a gigantic sacrificial altar at its centre. Beyond, lesser rows of columns disappeared into the distance. All were constructed of a rich red sandstone, quarried nearby, which made them glow wonderfully in the setting sun. I realised that contrary to what I'd learnt at school, the heart of the Roman Empire, at least in its later years, was not in Rome but here in the Middle East.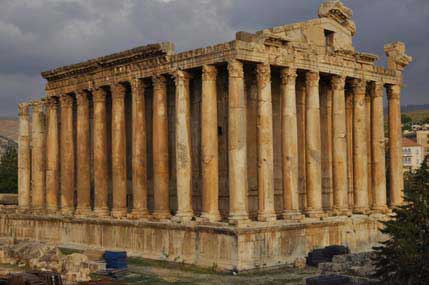 Other updates
Come to a talk!
---
Book now
for this slide/sound show.
---
Back to top
– More talks – More about John – Books and how to order – Some impressions
Come to a talk! – Contact details – Email John now – Intro and main menu