Trespassing in Turkestan
---
More talks
– More about John – Books and how to order – Some impressions
Come to a talk! – Contact details – Email John now – Intro and main menu
---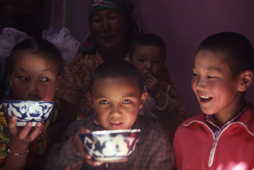 Kyrgyz children
Until the Soviet collapse Turkestan was a heavily guarded region where they launched sputniks and exploded atomic bombs. But the new republics have opened their borders, and John was one of the very first Westerners to travel freely in Kyrgyzstan, Kazakhstan and Uzbekistan. Alone or in the company of wandering shepherds, he took his cameras and microphone into previously unexplored valleys of Turkestan's 'Heavenly Mountains', the Tien-Shan.
"A superb account of your travels in Turkestan . . . a truly wonderful evening."
(Wednesbury Photographic Society)
Come to a talk!
Click here to listen to John's BBC Radio 4 programme Pilkington in Kyrgyzstan.
---
Book now
for this slide/sound show.
---
Back to top
– More talks – More about John – Books and how to order – Some impressions
Come to a talk! – Contact details – Email John now – Intro and main menu