An Adventure on the Old Silk Road
---
More talks
– More about John – Books and how to order – Some impressions
Come to a talk! – Contact details – Email John now – Intro and main menu
---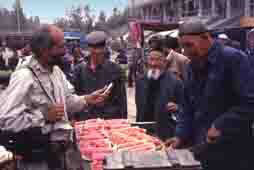 Recording in Turfan, China
In 1987 the opening of the border between Pakistan and China made it possible – for the first time in nearly half a century – to retrace the original line of the Silk Road across Asia. John was one of the first modern travellers to do so, and this is the story of his 8,000-mile journey. The presentation includes local and Western music together with excerpts from radio recordings he made along the way. After a ride with a Kyrgyz camel caravan and a visit to a lost city in the Taklamakan Desert, he takes you through the 'Jade Gate' to a silk mill and a newly opened stretch of the Great Wall, before finishing on the shores of the Yellow Sea.
"This was the second time in three months that John gave his talk, and again extra seats had to be found to accommodate the eager-eyed, absorbed audience."
(Hampshire Chronicle)
Sorry, this legacy talk on 35mm transparencies is no longer available.
Come to a talk
–
Buy John's Silk Road book
---
Book now
for this slide/sound show.
---
Back to top
– More talks – More about John – Books and how to order – Some impressions
Come to a talk! – Contact details – Email John now – Intro and main menu