The Royal Road of the Incas
---
More talks
– More about John – Books and how to order – Some impressions
Come to a talk! – Contact details – Email John now – Intro and main menu
---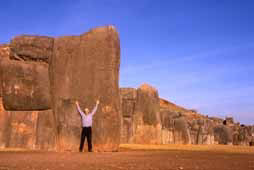 Inca fortress at Sacsayhuamán
In December 1999 John started his most ambitious journey yet, fulfilling a ten-year-old dream. The Royal Road – so-called because it linked the ancient Inca capitals of Quito and Cusco – follows the spine of the Andes for 1,700 miles through what is now Ecuador and Peru. After the Spanish conquest much of this extraordinary highway fell into disuse, and in his nine-month journey John hoped to find out what became of it.
"It was an explorer's delight," he said on his return. "This was the M1 of the Inca empire – so important that Pizarro's army used it for their march of conquest in 1533. It dives through gorges and climbs to nearly 15,000 feet, but I found long sections in amazingly good condition and still used by local people with their sheep and llamas."
The trip was full of surprises – volcanic eruptions, floods, snowstorms and a military coup – but helped by friendly inhabitants and sustained by the native Andean potato, he reached his goal and made some unexpected discoveries. "I kept coming across ruined Inca bathrooms," he says, "meticulously designed with a spout, a drain and even a shelf for the soap. Cold water only though."
John speaks fluent Spanish and a little Quechua, the still widely spoken language of the Incas. Travelling mostly alone and on foot, he pieced together surviving fragments of the ancient road and quizzed local people for legends or anecdotes about it. A highlight was finding the remains of an Inca tambo or staging post, lost since the 1500s, in southern Ecuador. Near Cajamarca in northern Peru he also spent some time seeing the work of Practical Action, the charity which he has supported for many years.

"A wonderful lecture . . . the youngsters have been talking about it ever since."
(Hymers College, Hull)
Follow John's journey as it happened through his regular updates:
6th January 2000
– 20th January 2000 – 26th January 2000 – 29th February 2000 – 19th March 2000 – 15th April 2000 – 6th May 2000 – 21st May 2000 – 13th June 2000 – 1st July 2000 – 23rd July 2000 – 12th August 2000 – 22nd September 2000
First update
– Last update
Come to a talk!
Listen to John's From Our Own Correspondent piece about the Royal Road for BBC Radio 4.
---
Book now
for this slide/sound show.
View details of talk

(Right-click to download)
---
Back to top
– More talks – More about John – Books and how to order – Some impressions
Come to a talk! – Contact details – Email John now – Intro and main menu